Houndstooth is such a classic pattern.  It seems to add a touch of sophistication to any piece or space. 
Most traditional: black and white houndstooth.  The high contrast makes such a strong statement…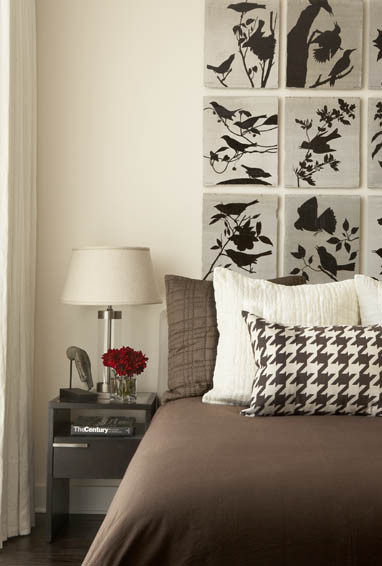 Check out how the next room mixes patterns.  Please, oh please, do not be afraid to have fun with pattern.  This space has houndstooth furniture, brocade-like patterned draperies, and floral pillows.  Gorgeous!  Adds so much interest to the space!
Want to use houndstooth in a modern way?  Punch up the color! 
Love these uses of colorful houndstooth…
Please someone tell me this glamorous purple bedroom is in a showroom somewhere.  I appreciate beautiful spaces, but who keeps their bed made so perfectly, and their side tables so empty?!  Again, I love the look, but I want a bed that says "Come cuddle up pretty girl", not "AH! Human! Go away you might mess me up." 
  Love me some purple houndstooth though!
Here's to a terrific Tuesday!